Adress
La sucrerie
Chem. de la Sucrerie 2,
1301 Wavre
Program
11h00-11h30: Welcome Drink
11h30-12h30: extraordinary general meeting (Only for effective members of the CMF and CIBH)
12h30 : Walking Dinner
14h00 : congress
15h30 : Networking Drink
16h00 : Congress
17h30 : Networking Drink
Number of places available:
150
Member price:
0€
Non Member Price:
250€
08/06/2023
Symposium
Symposium: Trends 2023 in pharmacy
Speakers
Bruno Liesse
Research and Marketing Consultant for the CIBH
June 2023: "The pharma sector in transition
After two measures that focused on trust (or not) in our sector and the rise of the web at different levels in consumer behaviour, the new CIBH barometer confirms the rapid evolutions and growing doubts that need to be addressed. The reputation of laboratories and the perception of brands in various health-related categories are being challenged in a post-Covid period of crisis and insecurity. Health-related issues in all their forms continue to worry, and professionals are expected to communicate more and better.
The malaise is also economic and has an impact on the purchasing power and behaviour of the patient-consumer: paying less or differently, or even limiting or cancelling medication is a risk that has become very present. The roles of the Internet and pharmacies are either opposed or complementary, depending on the situation, in terms of information, ordering and delivery of the various products and medicines concerned. New needs are being felt, and Belgium is not ahead of the game in meeting these expectations. Moreover, parapharmacies are adding to the profound revision of the historical model. A barometer that sheds light on the future in progress.
Bruno Liesse, Research and Marketing Consultant for the CIBH
How to capture the patient in 2023 ?
Patrick Van Dooren, Pharm, MBA Sr Principal Sr Director Data Analytics & Technology Solutions / Ken Langenakens, Engagement Manager Commercial Services
How to capture the patient in 2023 ?
IQVIA is a world leader in using data, technology, advanced analytics and human expertise to help customers drive healthcare - and human health - forward. Together with the companies we serve, we are enabling a more modern, more effective and more efficient healthcare system, and creating breakthrough solutions that transform business and patient outcomes.
Frederik van der Heijden
Commercial Leader in Healthcare- Mosadex Group
About Mosadex
Every day we provide optimal care and services:
More than 800 independent pharmacies, including 500 Service Pharmacies.
More than 300 DA drugstores.
250 healthcare institutions.
More than 11 million (healthcare) consumers in the Netherlands.
Through the right mix of knowledge, experience and cooperation, we are your guide in providing preventive, safe and effective (pharmaceutical) care.
Cooperative
Mosadex has a cooperative structure. Pharmacists that we relieve with our services can join as a member. Meanwhile, our cooperative has grown to over 300 committed members representing more than 600 pharmacies. This is another way we optimize our services. Read more about our corporate governance.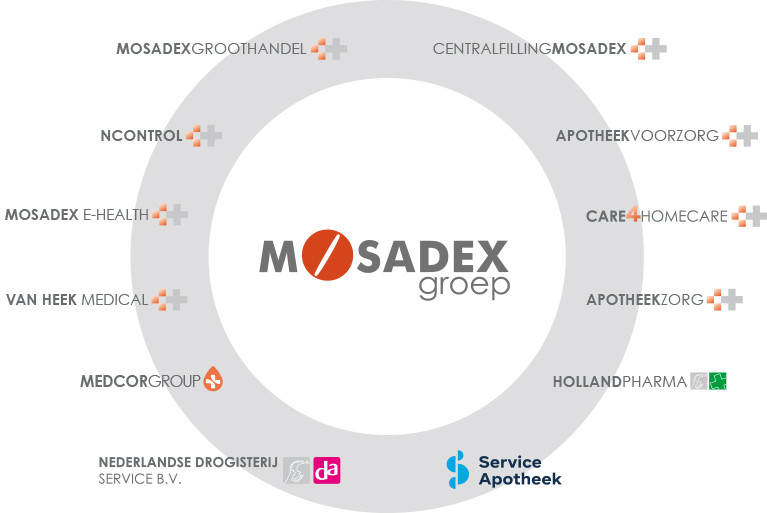 David Syr
CEO GERS
GIE GERS is a French organization with a unique mode of governance, which has been at the service of healthcare players for 40 years.
GIE GERS is an economic interest grouping created by companies in the pharmaceutical industry. For 40 years, GERS has been assisting its members in market analysis and performance management and offers a unique comprehensive data pooling of drug and health product data.
Topic:
Pharmacy is becoming an irreversible territorial and societal health facilitator. Since the pandemic, its image, its role and its position have been totally reworked.
The pharmacy economy is in full turbulence and reenchantment. The exponential growth of expensive drugs is transforming the interpretation of the margin for the pharmacy, for distribution. The increase in prices impacts the margin of Lppr products and advice. Outages disrupt daily life, the relationship between players, patient follow-up, and the possibility of foregoing care. The new missions represent a new challenge in this role of daily health facilitator, proximity, interviews, vaccinations. How to absorb more in a context of shortage of resources?
The squaring of the circle seen by Gers Data.
The final number of inscriptions is reached
---
Registration
Registration available until 08/06/2023